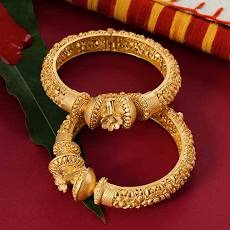 GOLD is true friend of mankind. From 2000 years
gold keeps it Top position in world Economy. Gold is
glossy, easy to melt, mould into bars or jewelry. It is
corrosion free, rust free. But why is gold so valuable? Why
is silver is in second place? why the value of currency is
based on Gold only? It is very rare in universe .Its digging
and refining is very much expensive day by day. It is useful
in industries, Medicines and much more than that.
PURITY SPEAKS
GOLD can be tested easily by some test, water test, acid
test, magnet test ,kasoti test, Purity tester. Gold comes in
24kt,22kt,18kt,14kt,10 kt. percentage of purity in it are
99.5%,91.6%,75.0%,58.33%,41.6% accordingly. In India
there are different standards for gold ornaments.23 kdm,23c,22k,etc.